Nick is one of the five English kids in the episode "Chem Gems." He is (apparently) an orange kangaroo who, along with Danny, searches for chemicals to mix a stinky brew, and goes to Baker Street without any of the three other kids. When he and Danny hide them in a shopping bag, they hide it in an abandoned warehouse from the Danger Rangers when they hear them, but Kitty proves how she knows what they did.
Nick is the only one of the kids in the episode to be voiced by an actual male: Justin Shenkarow (in his two roles not only in this episode, but altogether, the other being one of the villains, Jenkins).
Appearance
Edit
Chem Gems (first appearance)
(Any plans from season 2)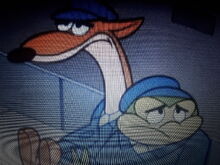 Ad blocker interference detected!
Wikia is a free-to-use site that makes money from advertising. We have a modified experience for viewers using ad blockers

Wikia is not accessible if you've made further modifications. Remove the custom ad blocker rule(s) and the page will load as expected.