Manny is one of the three boys in "Medicine Mix-Up." He is the buck-toothed bear who takes medicine out of his mother's purse.
He is voiced by Jessica DiCicco (the voice of the other boy whose name also starts with M, Moe).
Appearance
Edit
Medicine Mix-Up (first appearance)
(Any ideas from season 2 and season 3)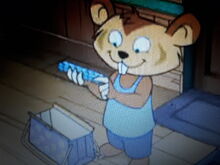 Ad blocker interference detected!
Wikia is a free-to-use site that makes money from advertising. We have a modified experience for viewers using ad blockers

Wikia is not accessible if you've made further modifications. Remove the custom ad blocker rule(s) and the page will load as expected.