Lobster Theodore is the secondary antagonist of the Danger Rangers episode "Water Works." He is, of course, a lobster who messes up water systems, especially in water parks, under command of Commander Octodon. He hates two things: hot water (both literally and figuratively) and melted butter (because they cook and garnish lobster as food, respectively).
Lobster Theodore is voiced by Mark Hamill, the voice of Burt.
Appearance 
Edit
Water Works (first appearance)
(Any ideas from season 2 and season 3)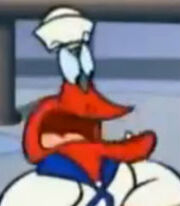 Ad blocker interference detected!
Wikia is a free-to-use site that makes money from advertising. We have a modified experience for viewers using ad blockers

Wikia is not accessible if you've made further modifications. Remove the custom ad blocker rule(s) and the page will load as expected.