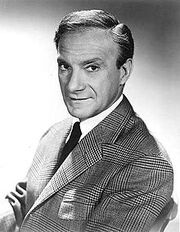 Jonathan Harris
(November 6, 1924 - November 3, 2002) was an American voice actor.
For Danger Rangers, he voiced Savo in the episode "Mission 547: Safety Rules!," which is the pilot that aired in 2004 (about two years after Harris's death) before the series even premiered.
Harris passed away three days before what would have been his 88th birthday due to a blood clot to his heart, so he never lived to see the pilot.
Unfortunately, the episode is not dedicated in his memory for reasons unknown.
Ad blocker interference detected!
Wikia is a free-to-use site that makes money from advertising. We have a modified experience for viewers using ad blockers

Wikia is not accessible if you've made further modifications. Remove the custom ad blocker rule(s) and the page will load as expected.