Duncan is the secondary antagonist of the episode "Go Games." He is a finch and the toady of Chancy McSpill. Unlike his leader, Duncan wears a helmet while riding a bike, but the helmet is too small to be safe. At Chancy's uncle's glue factory, upon command, he takes glue, but accidentally turns on the glue conveyor belt and sprayers trying to hide from Rangers Sully and Kitty, getting them stuck in glue. They leave with the glue, and Duncan uses a magnet under one ramp to ruin one competitor's chance to use the ramp, and puts glue on another, to ruin another's riding.
Eventually, Duncan can't stop his bike, so Rangers Squeeky and Gabriela shoot a net, but they miss. Trying to come up with a way to stop the cheaters, Fallbot hits the sides of his head, only to spew blue liquid out and make Duncan slip.
Duncan and Chancy are disqualified, but upon learning a lesson, are given a second chance, topped off with a survey (one safety question before every event).
Duncan is voiced by John Kassir (the voice of Fallbot).
Appearances 
Edit
Go Games (first appearance)
(Any plans from season 2)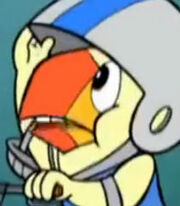 Ad blocker interference detected!
Wikia is a free-to-use site that makes money from advertising. We have a modified experience for viewers using ad blockers

Wikia is not accessible if you've made further modifications. Remove the custom ad blocker rule(s) and the page will load as expected.