Burt
is a turtle and member of the Danger Rangers. He is the inventor of the team. Burt is very creative and is the part-genius
Personal Safety Expert
. He is the smarty-pants. He is somewhat similar to Franklin the Turtle. His catchphrase is, "That's why your safety is my number one concern."
Burt is voiced by Mark Hamill.
Appearances
Edit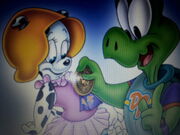 Ad blocker interference detected!
Wikia is a free-to-use site that makes money from advertising. We have a modified experience for viewers using ad blockers

Wikia is not accessible if you've made further modifications. Remove the custom ad blocker rule(s) and the page will load as expected.