Buck Huckster is the main antagonist of the episode "Safe and Sound." He is a moose and the band manager of The Decibulls. His bodyguard's name is Knuckles. He's making music and CDs very loud, so the music can't turn down just for money and so no one can even think of any other musical artist (group or single singer). He likes the band's #1 fan Sully.
Eventually, however, Sully and Kitty handcuff him and turn him to the police for his crimes.
Buck is voiced by Charlie Adler.
Appearances 
Edit
(Any ideas from season 2 and season 3)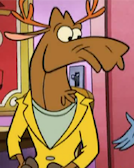 Ad blocker interference detected!
Wikia is a free-to-use site that makes money from advertising. We have a modified experience for viewers using ad blockers

Wikia is not accessible if you've made further modifications. Remove the custom ad blocker rule(s) and the page will load as expected.